Most of the time video games are often seen by many as a loner's hobby. However, the reality is that there are numerous games to choose from that you can play with friends. And if you are looking for some games to play to pass the time or looking to prove to your friends who's the best at 1v1, there are plenty of high octane online co-op and multiplayer games that are the perfect opportunity to show off your video gaming skills.
There are several games that you can choose from like Mass Effect, Call of Duty, Minecraft, Fortnite, etc. Furthermore, most of theses games are now readily available for purchase on Amazon today. So grab your favorite console – be it PC, Xbox, PlayStation or Nintendo Switch – call the rest of the crew and pick something off this list of our top favorite multiplayer games that is sure to provide some good and sometimes, maybe not-so-clean, in-game fun!
The Animal Crossing series may well be one of the most relaxing of all time. It gets even better when you add other players into the mix. Invite players to your island, inhabited by animals, to check out your personal house, the friends you've made, and even partake in the turnips and fruits you have available. Whether you're inviting players to let them get some good prices in the stalk market or simply want to exchange clothing patterns, there's always a good time to be had in Animal Crossing: New Horizons.
Call of Duty: Warzone is a free-to-play, standalone version of the classic shooter that everyone knows and loves. The game is a part of the 2019 title Call of Duty: Modern Warfare and is chock-full of addictive action and has a combat system that challenges players to survive, while being the last to fall among 150 to 200 players.
With two main modes, Plunder and Battle Royale, players work to eliminate each other using a variety of tactics as the "safe zone" on the game's massive map continues to shrink. They all parachute in at the start of the match, tasked with finding supplies and a place to keep safe.
Warzone is a constant fight for survival that fans of games like Fortnite and PUBG have gravitated toward, and for good reason. It combines the satisfying stop-and-pop arcade shooter action of the Call of Duty series with battle royale sensibilities, and to great effect.
Fans of horror movies will find plenty to love about asymmetrical multiplayer game Dead by Daylight, which pits a killer against a squad of survivors. Choose to play as a killer (Michael Myers, Pyramid Head, you name it) or a survivor who has to spend time working to escape their clutches. Killers have access to an arsenal of powerful weapons and abilities to slay survivors as they scurry around the map. Kill all survivors, and it's game over.
Survivors have a limited amount of passive skills and some items to assist them as they work to repair generators and avoid the killer. If the survivor team can make their escape without getting killed, they win the match. It's a tense and challenging game that will have you flinching at every little noise you hear, but always coming back for more.
Buy from Amazon
Destiny 2 is one of the most popular online multiplayer role playing games that you can also enjoy with a group of friends. Players can opt to complete single-player missions but then travel over to the Crucible, where team-based game modes allow Guardians to take on each other in Clash, Control, and Supremacy modes for one, with variations on each game mode. Players can also join up together to tackle various raids for the purposes of completing story-based requirements. It takes several pages from Bungie's work in the Halo series to great effect, and that's just part of what makes it such an enticing game to play with others.
The ultimate crossover event from Nintendo features just about every character you could think of from Nintendo's cadre and more. There are even stars from completely different franchises, including Metal Gear Solid, Sonic the Hedgehog, and more. Choose your main and get to bashing the stuffing out of each other. It's fast-paced, engrossing fun that anyone can participate in, regardless of skill level.
Who hasn't heard of Fortnite by now? The most popular multiplayer game in the world is a free shooter from Epic Games. Players drop into a massive map, search for weapons and supplies, and then gun each other down as the map slowly closes in on itself. Then bust out some hilarious emotes as you work your way toward getting the coveted Victory Royale as you hang out with friends and dream of Fortnite tournament riches.
Grand Theft Auto 5 is one of the greatest action rpgs ever made is consistently one of the best-selling games of each year, even though it's been out on the market for some time. Much of that popularity can be owed to GTA Online, its online multiplayer component.
Players can jump into the virtual version of Los Santos and live their lives as they see fit. With an open world, customizable characters, denizens can explore the city at their leisure, buy their own sports cars, and even own land and nightclubs in-game for private use. There are special heists to undertake, clubs to visit, and even RP groups to join to make it truly feel as though you're a member of the city. It's the next best thing to partying down in a big city, and best of all, all your friends can jump online to experience it with you.
With Rockstar Games continuously adding new content as the months go by, there's always something new to see and do when you dive back in a month or even six months later. Los Santos is an ever-evolving city that attracts all walks of players, and it's every bit as addictive as the regular, narrative-based game.
The blocky world of Minecraft is your oyster, and creating things within the confines of this low-res universe is fun on your own. Imagine bringing friends in to create, too. There's plenty to do with your buddies as you erect huge structures, mine for resources, and take on monsters like spiders, skeletons, and the infamous creepers. It's a fun, easygoing way to spend time with friends that's appropriate for all ages.
Think you know a thing or two about cooking? Put that all out of your mind when playing Overcooked! 2, a game that will test your ability to multitask as well as your friendships. Players must trade off as they work to serve a variety of dishes to waiting customers between cooking dishes and cleaning them (and everything in between) throughout shifting cooking layouts and other frustrating obstacles. It's all about working together, but sometimes that's impossible when your kitchen is interrupted by streams of people or split in half by the sea.
Blizzard's quintessential hero shooter has a player for just about everyone, and that's just part of what makes it unique. Choose your favorite hero and go to town throughout several game modes with your friends and work to secure the payload, capture or defend points, or take on some fun arcade modes that come around once every so often. You'll love learning to play a new character together while figuring out ways to mesh your chosen roles together, especially since all the heroes feel so unique from each other.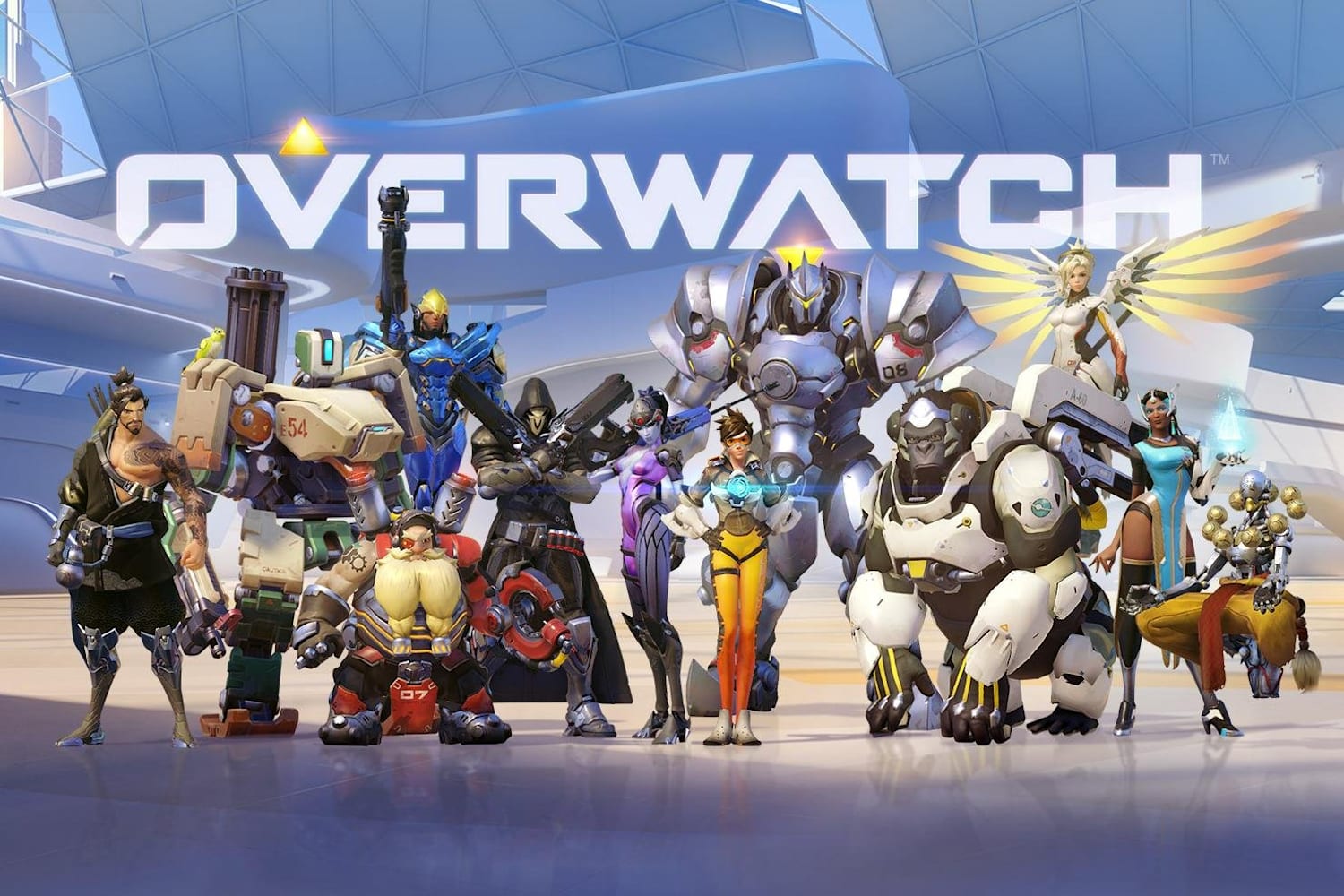 Before Fortnite, there was PlayerUnknown's Battlegrounds, one of the most expansive battle royale titles around. Compete on a massive map while the storm closes in around you to nab the coveted Winner Winner, Chicken Dinner—though it's not as easy as just getting a few kills. You've got to be the last player standing at the end of the round, and duos and squads is perfect for enlisting your friends to help watch your back.
If you are looking for some party games, then round up your fellow crewmates and jump into an exciting journey on the high seas. On Sea of Thieves you can round up a party and head out on your own seafaring adventure on a pirate ship to collect booty, fight off monsters and enemies under the sea, then work to become a pirate legend in your own right. Just make sure you don't end up at the bottom of Davy Jones locker!
If you enjoy playing board games then Tetris is one of the most satisfying puzzle games of all times, and Tetris Effect: Connected only ups the ante wit h a unique level design. It adds multiplayer for players to challenge each other as well as a co-op mode to work together, features that were never present in the original Tetris Effect. It's a gorgeous, colorful dance between levels that requires players to place all the falling blocks in the right places.
Continue stacking blocks up, line after line, as you work to clear out all the blocks together or against an opponent. Then groove along to a series of catchy jazz, trance, electronica, and dance songs. It's all about playing with others, though you can play alone if you'd prefer. But once you add other players into the mix, you really begin to understand why Tetris Effect: Connection may be the best version of the bunch.
All Rainbow Six games are great for playing with friends, but Siege is a team-based affair that will call your tactical skills into question. Players select different operators as they split off into different teams: the Counter-Terrorism Units, with four operators per team to choose from that will play both attackers and defenders. They can face off against each other across 11 maps and 5 different type of modes, including Hostage, Bomb, Secure Area, and more. With a destructive system, a powerful set of arms, and intriguing abilities, this is a multiplayer affair that outshines the current Ghost Recon release.
If you've played this before, you know why it deserves its reputation as the "party game for horrible people." The aim of such card games is to make people feel as awkward as you can with your answer. As such, one player picks a question card, and the others submit their funniest answers by choosing a card from their hand. As the game's name implies, the answers are usually crude and uncomfortable. And while you don't have to be on video chat to play All Bad Cards, doing so makes the fame much more fun.
Make sure to keep up with our website for more gaming related content! Plus, if your looking for some news on 2021 game releases, then you should read more by checking out our article on our Top 10 Games that you should look out in 2021.